A physical event…yes that's right we're back! Last week saw the return of our physical events and we couldn't have been more excited about it. We were able to host our first "on-the-ground" event since March at the Palazzo Parigi hotel in Milan. This was our first hybrid event, which meant that we had a live audience and a virtual one. It was a huge success!
"It was amazing for everyone in the team to be back in action, running a physical event. The hotel was very efficient and helped us hold a fantastic first forum back. Everyone participating was so glad to be there!"

Myrsini Gkanavara, Event Manager
How our event worked in Milan:
Through these unprecedented times, Citywire has evolved with tech-savvy events. We have been hosting virtual events non-stop throughout the pandemic to keep our delegates and sponsors connected as best we can. If you have been to one of our live events before you would have been handed a physical show guide for all of the info about an event. With our new hybrid event format, everything you need you can be downloaded straight to your phone. Just scan a QR code and you're good to go. Our design team have been working hard to ensure these not only look amazing but are super user friendly!
We worked hard to ensure we devised and followed plenty of safety measures with the hotel. This further put our guests minds at ease in taking a trip out to a physical event again. A couple of procedures we had in place were:
Guests temperatures were checked on arrival.
Sanitizer was available throughout the venue and there was plenty of health and safety signage.
Hotel staff were wearing PPE such as masks and gloves when serving food and drink.
Once guests arrived, they were directed to a seat which they then stayed in throughout the duration of the event.
Our sponsors moved around the room to present from different stands. This was to ensure everyone got the best experience of the presentations and were able to network with minimal contact and movement.
We also offered our guests face masks, which were fabulously modeled throughout the day as you can see.
With all of our new knowledge of virtual events, it was no problem if a sponsor or delegate wasn't able to attend physically. For sponsors living in different countries who still face travel restrictions etc, they were able to present their funds virtually to the live audience onsite. Headphones were given to each delegate so that everything was heard loud and clear from our virtual sponsors. Using headphones also avoided distracting those sponsors who were able to attend and present physically. Likewise, for those of our delegates who wanted to attend but couldn't physically, they were able to watch through our micro site. This streamed every session for them throughout the day.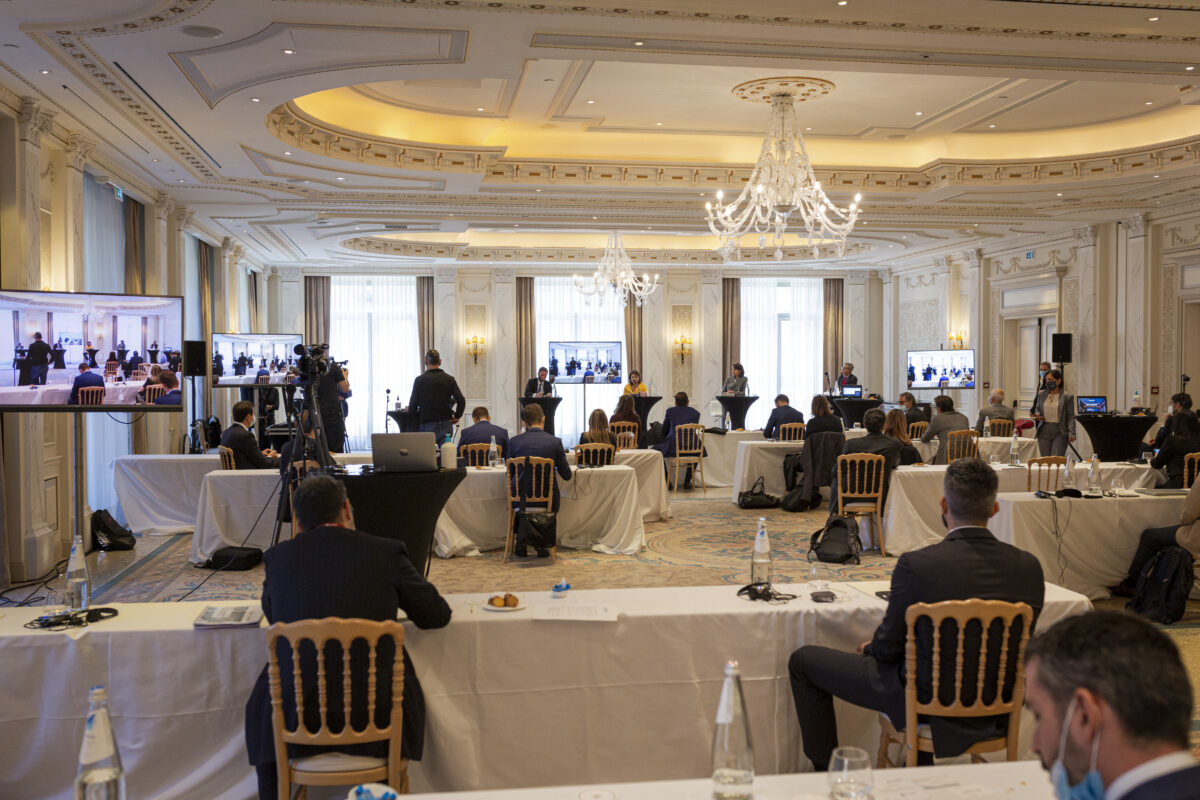 We had a fantastic day and we're so excited to be back. We're looking forward to our next hybrid event, we look forward to seeing you there!
To catch up on Milan and see upcoming events click here.