For this week's Taste Buds on Tour I will be taking you to South Africa – the location of one of our events that should have taken place this June. As this couldn't take place live we converted into our virtual format. If you missed last weeks stop in Thailand go check it out.
This Cape Malay chicken curry with yellow rice does have quite a lengthy list of ingredients and, whilst this is slightly daunting, I would advise not to scrimp on the spices as they really livened up the dish (apart from coriander, I definitely scrimped on this, as in my opinion it shouldn't be added to any dish ever).
Cape Malay chicken curry with yellow rice
Serves: 4
Prep time: 30 mins
Cook time: 1hr 20 mins
For the curry
2 tbsp sunflower or rapeseed oil
1 large onion, finely chopped
4 large garlic cloves, finely grated
2 tbsp finely grated ginger
5 cloves
2 tsp turmeric
1 tsp ground white pepper
1 tsp cumin
Seeds from 8 cardamom pods, lightly crushed
1 cinnamon stick, snapped in half
1 large red chilli, halved, deseeded and sliced
400g can chopped tomatoes
2 tbsp mango chutney
1 chicken stock cube, crumbled
12 bone-in chicken thighs, skin removed
500g potato, cut into chunks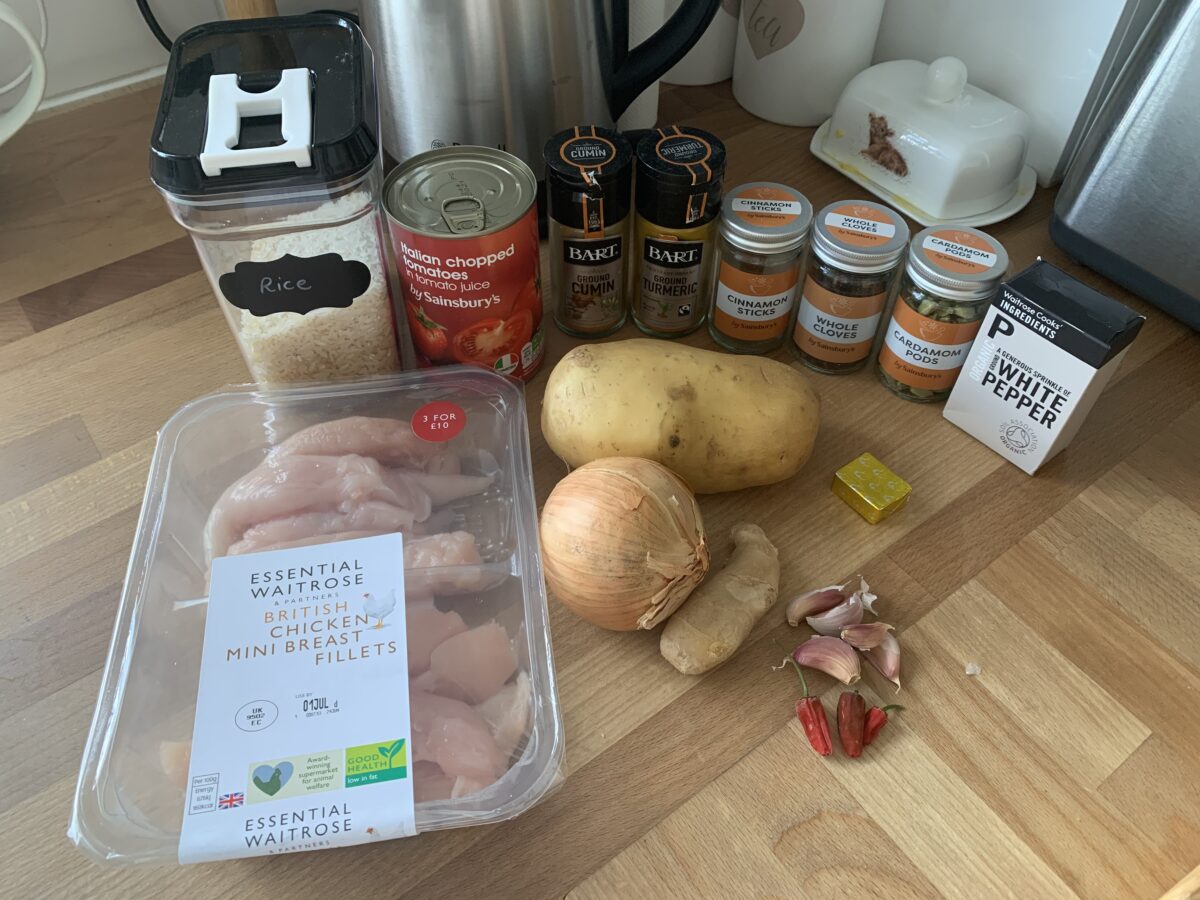 For the yellow rice
50g butter
350g basmati rice
1 tsp golden caster sugar
1 tsp ground turmeric
¼ tsp ground white pepper
1 cinnamon stick, snapped in half
8 cardamom pods, lightly crushed
Method
For the curry
Heat the oil in a large, wide pan. Add the onion and fry for 5 mins until softened, stirring every now and then. Stir in the garlic, ginger and cloves, and cook for 5 mins more, stirring frequently to stop it sticking. Add all the remaining spices and the fresh chilli, stir briefly, then tip in the tomatoes with 2 cans of water, plus the chutney and crumbled stock cube.
Add the chicken, pushing under the liquid, then cover the pan and leave to cook for 35 mins.
Stir well, add the potatoes and cook uncovered for 20 mins more until tender.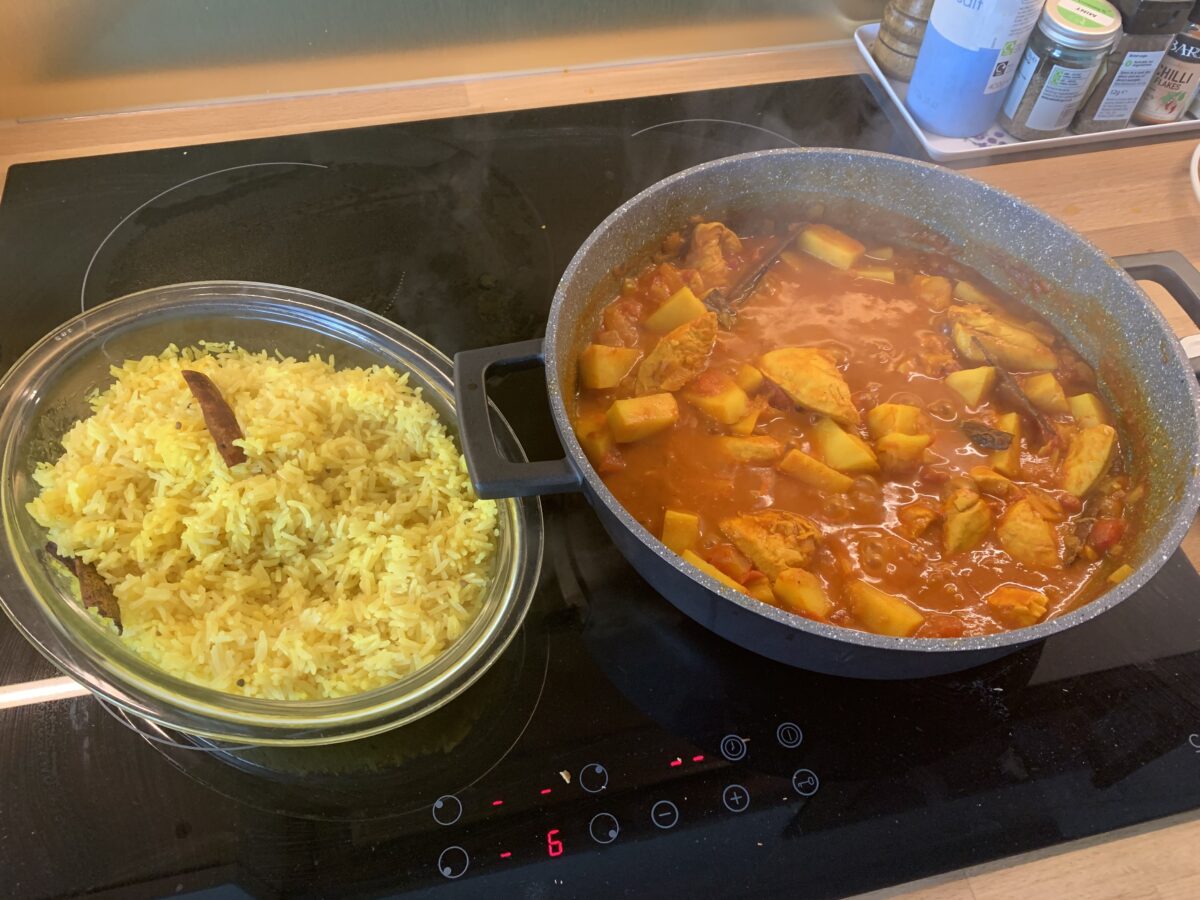 For the rice:
To make the rice, put the butter, rice, sugar and spices in a baking dish with 550ml water and 0.5 tsp salt. Cover with foil and cook in the oven for 30 mins at 180⁰C for a fan over, gas mark 6.
Fluff up and serve with the curry!
Review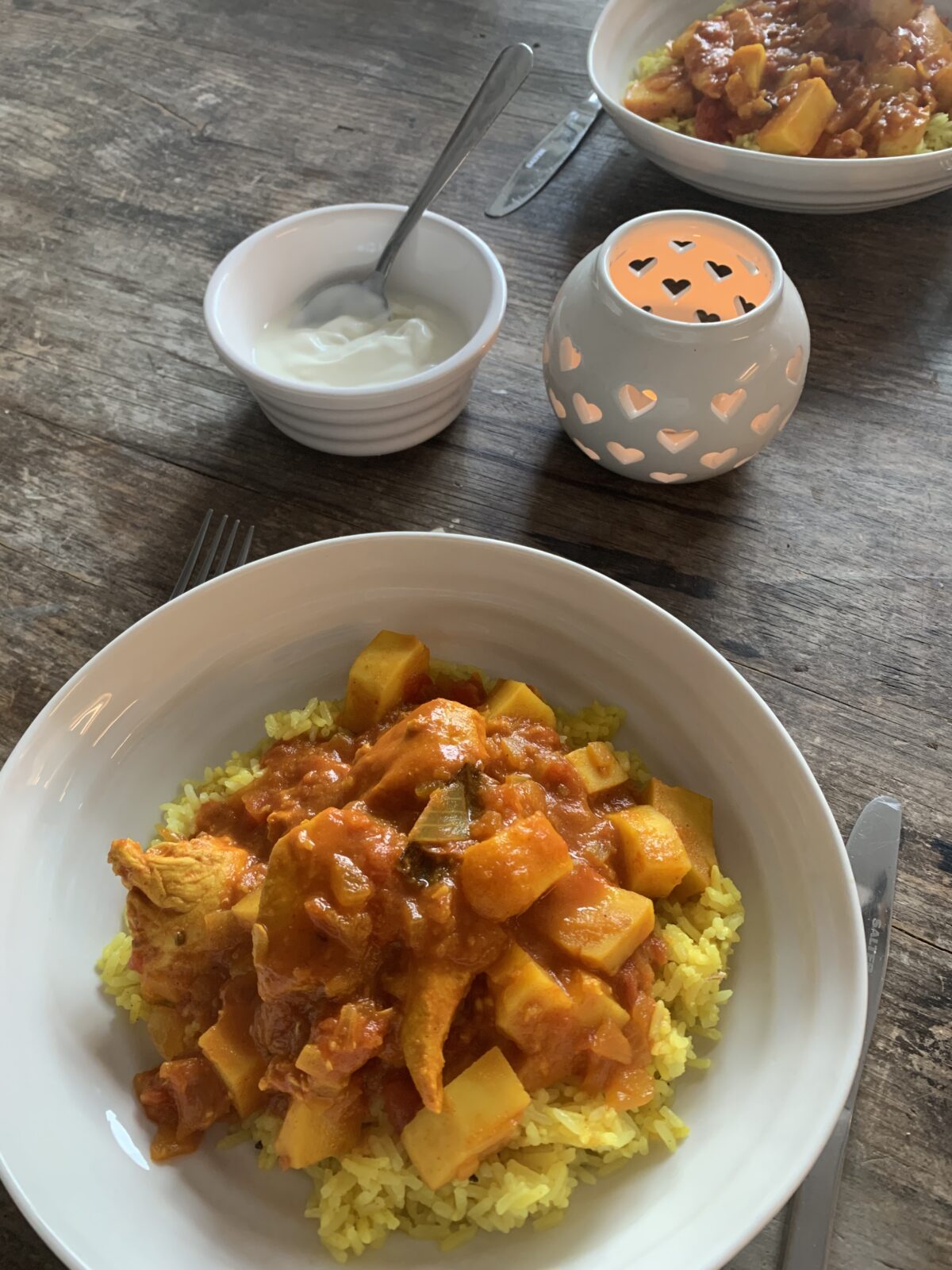 I was really pleased with how this dish turned out – it definitely tastes better than it looks, I promise! It was packed with flavour, much easier to make than expected, and it really filled my flat with delicious spicy aromas!
I used chicken breasts instead of chicken thighs, but it worked fine. I also used home grown chilies which were much spicier than expected, and a lot spicier than regular chilies you can buy from a supermarket, so I actually served the dish with a bit of cooling yogurt on the side.
Whilst cooking this dish in my West London kitchen was not quite the same as witnessing the stunning views of the Western Cape's Garden Route, I did manage to impress my South African boyfriend, so for that I will call this a success!
Next time Taste Buds on Tour goes to Columbia courtesy of Jess one of our Conference Producers. Be sure not to miss it!