Covid 19 has cancelled many trips for us all, but none so looked forward to as the week in Thailand that we were supposed to be jetting off to in early May. Not to be disheartened however, this weeks Taste Buds on Tour will recreate the magic of being there, filling your kitchen with (some) of the exotic sights and sounds of a Bangkok Street Food Market.
Today, I will be sharing how to make Pad Kra Pow – also known as Mussels Stir Fried with Chili and Basil from wisdom bestowed on me largely by Rosa's Thai. I am not a natural chef myself, so this is an incredibly simple but delicious dish perfect for serving with rice as a main meal or for including as part of an extensive sharing platter.
PAD KRA POW
Serves 2
Prep time: 10 minutes
Cook time: 5 minutes
Equipment needed: Wok
Ingredients: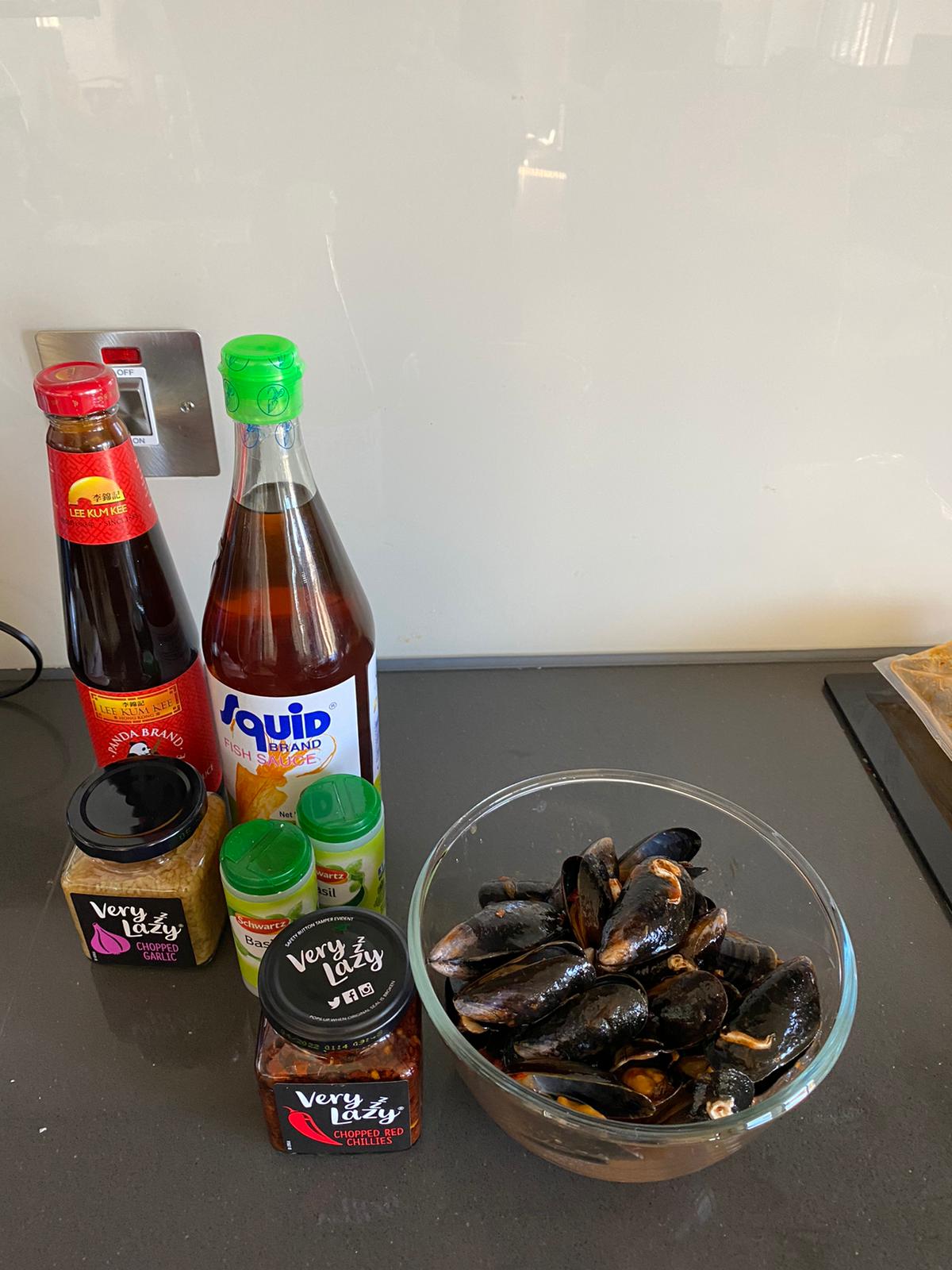 1kg (2lb) mussels
3 garlic cloves
2–3 red spur chilies
2 tablespoons vegetable oil
2 tablespoons roasted chili paste
1 tablespoon granulated sugar
1 tablespoon oyster sauce
1 tablespoon light soy sauce
1 teaspoon Thai fish sauce (or salt)
1 tablespoon chicken stock
Large handful of Thai holy basil leaves (or Italian ones.) I used dried basil as apparently the entire of London was having a basil shortage when I was ingredient shopping
Steamed rice, to serve (optional)
Method:
The first step to cooking anything with mussels is to check that they are all closed. Any that have already opened need to be discarded. Gently tap any that aren't, and discard them if they do not close. Clean the mussels in a bowl of water. Removing and discard the beards (those little fluffy bits on the shell). Set aside.
Pound the garlic and chilies together using a mortar and pestle until they make a sort of paste.
Heat the oil in a wok set over a high heat. Stir-fry the garlic and chili mixture until golden brown.
Add the roasted chili paste, stir well, then mix in the mussels and stir again.
Add the sugar, oyster sauce, soy sauce, fish sauce (be very careful about not mixing up teaspoon and tablespoon of this as I did on the first attempt – it is a taste I wouldn't wish on my worst enemy) and chicken stock. Stir-fry for 2 minutes or until the mussels are cooked.
Stir in the basil leaves or dried basil and remove from the heat.
Discard any mussels that have not opened up.
Serve with rice, and an ice cold Chang beer for the full Bangkok experience!
Review:
Personally as someone who cannot even guarantee success while boiling an egg, I was absolutely delighted with this. I will admit, it took me two attempts following the aforementioned fish sauce incident (my taste buds are still recovering) but the extra little bit of work required made victory all the sweeter.
Whether a snack, a light lunch or part of a "Countries of the World" themed dinner party (once we have made it through through lockdown, of course – no rule breaking encouraged here), this really does live up to expectations as a perfect taste of Thailand.
Next time on Taste Buds on Tour, Senior Events Executive Millie brings you a recipe from South Africa. In the meantime, if you're in the mood for some Italian, make sure to check out what Amy did last week!