This week Taste Buds on Tour is coming to you live from Italy, aka my family kitchen in Hawksworth, Nottinghamshire. An equally glamorous, cultural and beautiful location as I'm sure you can imagine. A few weeks ago we were due to be in gorgeous Venice for our annual Venice Retreat; cruising down the canals, sipping on Aperol Spritzs, and of course most importantly – learning about funds. Instead, this week I will be bringing the best part of Italy to you at home – PIZZA.
Aside from providing a delicious dinner, making home made pizzas is a really fun activity to do with your household (rules are rules) to jazz up those quarantine weekends! I got my family involved and everyone decked out their own pizzas with whichever toppings they fancied – a great one for using up leftover veggies and bits and pieces from the fridge.
Home made Pizza
Makes 2 pizzas (serves 2-4 depending on how hungry you are)
25 mins prep + proving time (up to you)
12 mins cook
Ingredients:
For the base: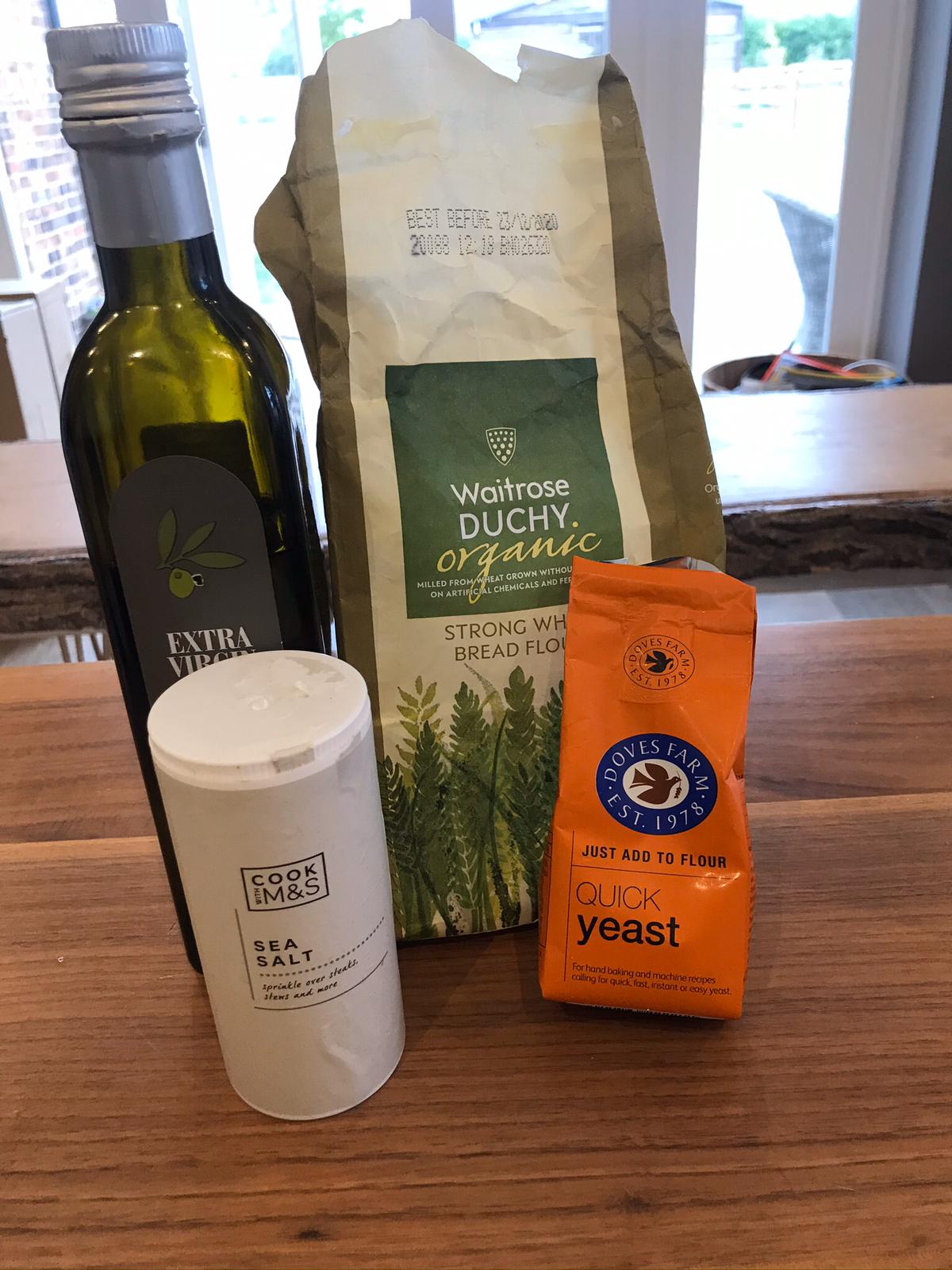 300g strong white bread flour – I used wholemeal instead because I am a health queen, and also (mainly) because I ran out of white. You can also use plain flour if you don't have any bread flour knocking around.
1 tsp instant yeast
1 tsp salt
1 tbsp olive oil, plus extra for drizzling
200ml warm water
For the tomato sauce: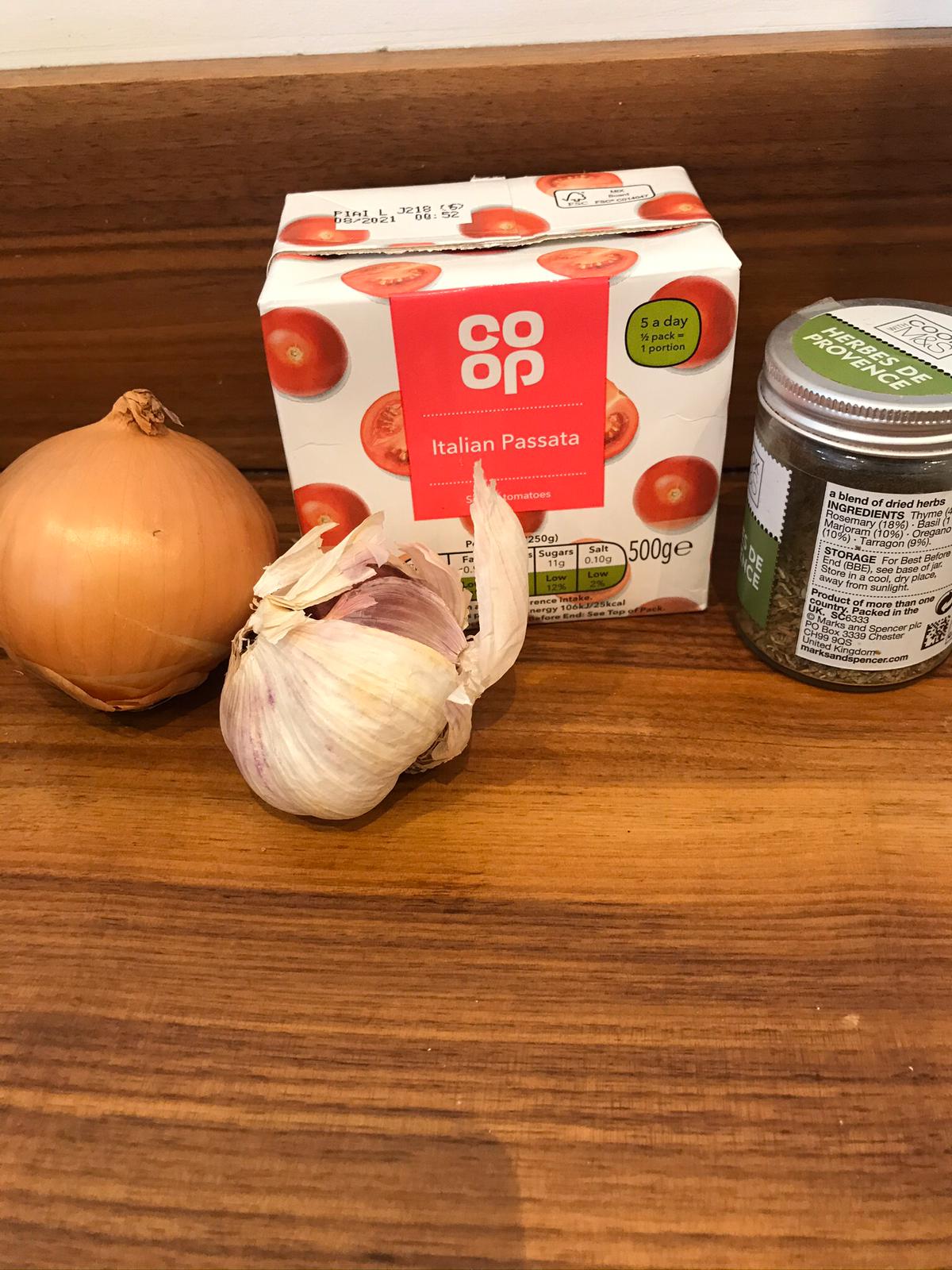 300g passata
handful fresh basil or 1 tsp dried – I also didn't have this so used some herbs de provence instead and actually I really overdid it so I wouldn't recommend.
1 garlic clove, crushed
½ white onion
For the topping:
Whatever you fancy! I used: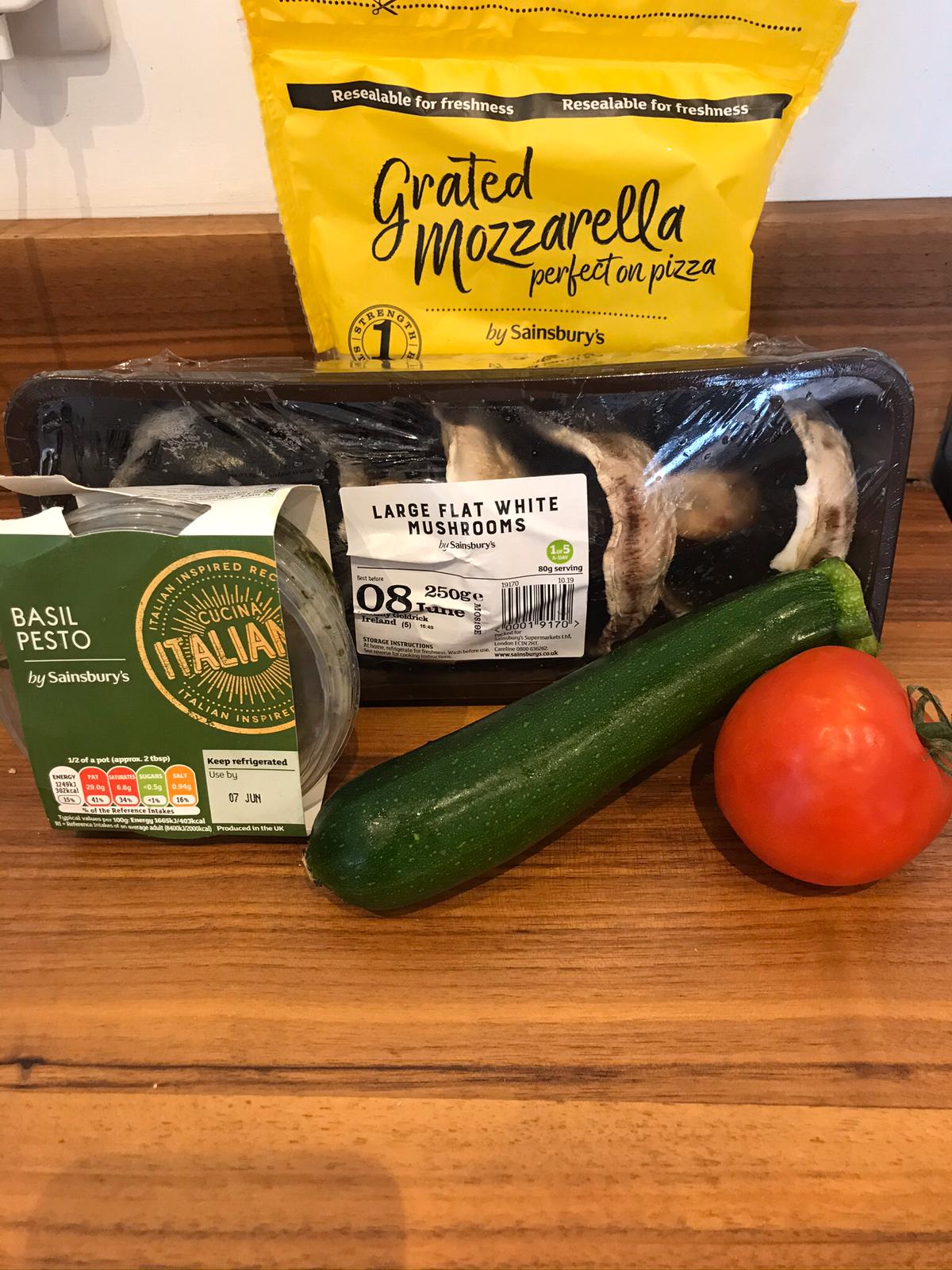 Mozzerella
Also some cheddar cheese too because cheese is life
Mushrooms (I precooked these slightly)
Courgette (also precooked these)
Tomatoes
Basil pesto
Egg (not pictured, this was a last minute decision)
Method:
Make the base: Put the flour into a large bowl, then stir in the yeast and salt. Make a well, pour in 200ml warm water and the olive oil and bring together with a wooden spoon until you have a soft, fairly wet dough. Turn onto a lightly floured surface and knead for 5 mins until smooth. Cover with a tea towel and set aside. You can leave the dough to rise if you like, but it's not essential for a thin crust. I left mine for about 30 minutes which worked well!
While your dough is proving make the sauce: Fry the onion and garlic for 10 mins on a low heat, add the passata and basil, season to taste and cook for a further 2 mins. Remove from the heat and blitz the sauce in a food processor until you have a nice thick sauce for your base.
Roll out the dough: If you've let the dough rise, give it a quick knead, then split into two balls. On a floured surface, roll out the dough into large rounds (round was a generous term for what I ended up with), about 25cm across, using a rolling pin. The dough needs to be very thin as it will rise in the oven. Lift the "rounds" onto two floured baking sheets.
Top and bake: Heat oven to 240C/fan 220C /gas 8. Put another baking sheet in the oven on the top shelf. Smooth sauce over bases with the back of a spoon. Scatter with cheese and toppings, drizzle with olive oil and season. Put one pizza, still on its baking sheet, on top of the preheated sheet or tray. Bake for 12 mins until crisp. Serve with a little more olive oil, and basil leaves if using. Repeat step for remaining pizza.
Review:
As you can see from the photo – I was clearly thrilled with the outcome, definitely need to get out more.
Only complaint – for some reason I thought I could cut corners so skipped the preheated baking tray stage, do not make the same mistake! This makes sure your pizza base is super crispy and mine turned out a little on the soggy side in the middle unfortunately but at least I have saved you all from a similar fate.
If you want to add an egg to your pizza, Fiorentina style, take your pizza out of the oven after 5 minutes, make a little well in the centre with the back of a spoon and crack an egg into the middle before returning to the oven for the remaining cooking time. This was actually really delicious so I recommend!
Despite the ever so slightly soggy bottom the pizzas went down extremely well in my family and will definitely be trying this recipe again. Served with a simple side salad and a glass of prosecco to really get the pizza party vibes going, may not quite be a night in Italy but I'm getting there!
Whilst it was a shame we weren't able to visit Italy this year for our Venice Retreat, we were able to hold an event virtually!
If you missed the first in Taste Buds on Tour head here to see how to make a UK staple: Toad in the Hole. Also, keep an eye out for the next in this series where Francesca Digby, Senior Client Liaison takes us to Thailand.